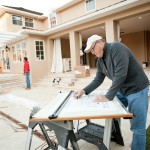 Earlier this year, the Concept Studio was featured in Comstock's Magazine and recognized for inspiring redesign in recessionary times.
Story by Dixie Reid | Photo by Mike Graff
It's 2 p.m., and John Packowski must design an entire house from scratch by 5 o'clock.
"I know exactly what I want this house to look like," he says. "I'll turn on the stereo, have a glass of wine, and I'll sit out there for two hours and I'll have a floor plan done. How good is that?"
Packowski works in a small atelier behind his mid-century modern Sacramento home, the headquarters of his one-man Concept Studio.
Once a partner in a large architectural firm, the recession and housing crisis cost him his livelihood, but he didn't stay idle for long.
"It was emotionally difficult," Packowski says of dismantling the once-successful PHA Architects firm with partner Chris Heinritz in 2009. "But I started thinking, 'What are you going to do now?' The only way to make it is to be lean and mean, faster and more efficient. That's what I've always been. What I love best is concept design. I have this ability that I was born with that I can envision what I want something to look like before I even put a pen on paper.
"Concept design is what everybody pays top dollar for, but they can't afford the prices the big firms used to charge to do a house. So, why not offer the same service, but do it at two-thirds the price you would have paid when we had the big operation?"
During the waning years at PHA, he'd done very little design work because he was managing the business. Now, he has an opportunity to continue his passion, albeit differently.
Packowski, 54, is now part of an à la carte team of home-construction specialists, most of whom work independently.
"Everybody has become a consultant," he says. "You surround yourself with the best talent you can find. I have a wonderful landscape designer, an incredible interior designer, my construction draftsman and, if a complex project comes along, my old partner, Chris, is a licensed architect.
"I design concepts, but I also have a background in landscape architecture and interior design and city planning and political science. These things are a part of your life, and you use them every day, Packowski says.
"It's the funnest thing that's ever happened. My blood pressure is half what it used to be. My creativity is twice what it used to be. I'm faster than I've ever been, and I'm having twice the fun. And my relationship with (my wife) Patty is better because I'm home more often and not working 70 to 80 hours a week."
Packowski charges $5,000 to $25,000 for a design concept, depending on size and complexity. He'll have a design done in an afternoon, deliver it to the draftsman who gets the plan drawn to scale on a computer and, by the next day, the builder has a completed plan in hand.
"I think what John has done is fine-tuned and focused his strengths," says former partner Heinritz. "He's an upfront idea guy. He loves to brainstorm and get projects started. He's high-energy and motivated."
He and Packowski launched PHA in 1993. For 15 years, the firm was known for cutting-edge architectural design, including the first LEED Platinum house in the U.S., in Folsom, and the country's first LEED Platinum subdivision, in Roseville.
But the ultimate "green" home is a remodel, Packowski says. And much of his work these days involves sprucing up existing houses, from Santa Barbara and Sacramento's Fab 40s neighborhood to Lake Tahoe and the Napa Valley. One of his first remodels was his own 1965 Streng Bros. home, which was untouched for more than 40 years. It's now a pristine white space, filled with natural light and the couple's burgeoning art collection.
See More Here: http://www.comstocksmag.com/Archive/0112_F_Back-to-the-drawing-board.aspx